We are pleased to announce that Selfridge & Associates has merged with Callistus Smith Agency. The marriage of our two insurance families will create better service and a larger selection of insurance carriers. As of January 1st, our combined offices are located at 3415 Paoli Pike in Floyds Knobs. If you are a current client, your policies will stay the same and no action is required on your part.
We would like to congratulate Gary Selfridge on his retirement after 48 years of serving our community with his insurance expertise.
Zary, Andy, Mary, and Sara will still be available to help you and service your accounts. You can still reach them by calling either of our phone numbers: 812-944-8400 or 812-944-7711.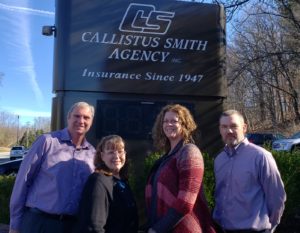 We appreciate the opportunity to help you, and look forward to servicing your insurance needs! Feel free to call us directly if you have more detailed questions.